About Us
Chow is a Chinese takeaway in Glasgow. Why don't you try our Honey Chilli Chicken or Chicken Noodles?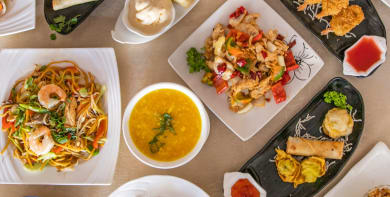 Reviews
158 reviews
George
"Great service as usual, on time and piping hot ."
06/01/2021
Selena
"I particularly enjoyed the honey chilli chicken and the peking ribs. I would order from Chow again"
01/01/2021
fiona
"Great food, generous portions. Will order again"
01/01/2021
Claire
"Lovely food and excellent delivery - very friendly chap."
31/12/2020
Menu
Lunch Time Special Regular
Available 11am-4pm
One long container
Choose one:
• Chicken curry
• Beef curry
• Chicken Szechuan
• Beef Szechuan
• Chicken satay sauce
• Beef satay sauce
• Chicken with green pepper & black bean sauce
• Beef with green pepper & black bean sauce
Served with rice, noodles or chips
(King prawn or duck £1.50 extra)
£7.20
Lunch Time Special Special
Available 11am-4pm
One long container
Choose one:
• Chicken curry
• Beef curry
• Chicken Szechuan
• Beef Szechuan
• Chicken satay sauce
• Beef satay sauce
• Chicken with green pepper & black bean sauce
• Beef with green pepper & black bean sauce
Served with rice, noodles or chips
(King prawn or duck £1.50 extra)
£8.70
Fried Fish with Green Peppers & Black Bean Sauce
£7.70
Fried Fish in Satay Sauce
£8.00
Fried Fish Szechuan Style
Hot & spicy
£7.70
Fried Fish with Black Pepper Sauce
£7.70
Fried Fish with Ginger & Spring Onion
£7.70
Roast Pork with Black Pepper Sauce
£6.30
Roast Pork with Green Peppers & Black Bean Sauce
£6.30
Roast Pork Szechuan Style
Hot & spicy
£6.30
Roast Pork with Thai Sauce
£6.30
Roast Pork with Cashew Nuts
£6.30
Roast Pork in Satay Sauce
£6.80
Roast Duck with Green Peppers & Black Bean Sauce
£8.10
Roast Duck Szechuan Style
Hot & spicy
£8.10
Roast Duck with Plum Sauce
£8.30
Roast Duck in Oyster Sauce
£8.10
Roast Duck with Ginger & Spring Onion
£8.10
Quarter Peking Aromatic Duck
£11.90
Half Peking Aromatic Duck
£20.90
Whole Peking Aromatic Duck
£35.90
Chicken with Green Peppers & Black Bean Sauce
£6.30
Sweet & Sour Chicken Hong Kong Style
£6.30
Chicken in Batter
With sweet & sour sauce
£6.70
Shredded Chicken with Thai Sauce
£6.80
Shredded Chicken with Peking Sauce
£6.80
Shredded Chicken with Satay Sauce
£6.80
Chicken with Ginger & Spring Onion
£6.30
Chicken with Peking Sauce
£6.30
Beef with Green Peppers & Black Bean Sauce
£6.30
Beef with Ginger & Spring Onion
£6.30
Shredded Beef with Thai Sauce
£6.80
Shredded Beef with Peking Sauce
£6.80
Shredded Beef with Satay Sauce
£6.80
King Prawn with Green Peppers & Black Bean Sauce
£7.90
King Prawn Szechuan Style
Hot & spicy
£7.90
Fried Sweet & Sour King Prawn Hong Kong Style
£7.90
King Prawn with Ginger & Spring Onion
£7.90
King Prawn in Satay Sauce
£8.20
Fried Sweet & Sour King Prawn Balls
£7.90
Box Meal 1
• Chicken balls
• Fried rice
• Chips
• Curry sauce
£7.00
Box Meal 2
• BBQ ribs
• Fried rice
• Chips
• Curry sauce
£7.00
Box Meal 3
• Crispy chicken
• Fried rice
• Chips
• Curry sauce
£7.00
Box Meal 4
• Crispy roll
• Fried rice
• Chips
• Curry sauce
£7.00
Fried Rice with Any Sauce
£5.00
Mix Vegetable in Sweet & Sour Sauce
£6.00
Mix Vegetable in Szechuan Sauce
£6.00
Mix Vegetable in Satay Sauce
£6.30
Mix Vegetable in Oyster Sauce
£6.30
Mix Vegetable in Black Bean Sauce
£6.00
Mix Vegetable with Bean Curd
£7.70
Green Bean with Olive Leaves
£9.00
Salt & Pepper Chicken Wings
£6.10
Chicken Balls
With sweet & sour sauce
£6.30
Salt & Pepper Chicken Balls
£6.50
Chicken Satay on Skewers
With satay sauce
£6.50
Salt & Pepper Popcorn Chicken Small
£5.70
Salt & Pepper Popcorn Chicken Large
£6.70
King Prawn Ball
With sweet & sour sauce
£6.70
Mussels in Black Bean Sauce
£6.50
Pick "N" Mix 1
With sweet & sour sauce
BBQ chicken wings, BBQ ribs, chicken balls
£7.50
Pick "N" Mix 2
With sweet & sour sauce
Vegetable spring rolls, sesame prawn toast, chicken balls
£7.50
Pick "N" Mix 3
With sweet & sour sauce
Chicken balls, BBQ ribs, sesame prawn toast, vegetable spring rolls, BBQ wings
£15.50
Pick "N" Mix 4
Salt & pepper chicken balls, salt & pepper ribs, salt & pepper spring rolls, salt & pepper chicken wings
£15.50
Contact Us
Find Us
98 Byres Road, Glasgow, G128TB
We deliver to
G11, G12, G13, G14, G20, G3, G4