About Us
Chow is a Chinese takeaway in Glasgow. Why don't you try our Honey Chilli Chicken or Chicken Noodles?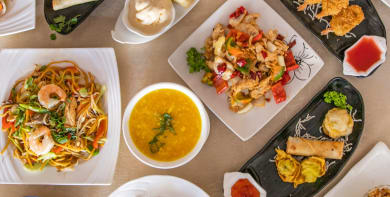 Reviews
103 reviews
Mike
"Tasty, hot and perfect size portion"
21/05/2020
Evan
"Food was excellent and super tasty."
18/05/2020
matthew
"Thanks so much for an awesome meal, the chicken satay is delicious and the whole quality of food great. Thanks to May who runs the restaurant too, lovely lady. Best regards Matt"
17/05/2020
Richard
"Pork fried rice, wasn't actually pork fried rice. It was like a broth/soup with mushrooms etc."
14/05/2020
Menu
Lunch Time Special Regular
Available 11am-4pm
One long container
Choose one:
• Chicken curry
• Beef curry
• Chicken Szechuan
• Beef Szechuan
• Chicken satay sauce
• Beef satay sauce
• Chicken with green pepper & black bean sauce
• Beef with green pepper & black bean sauce
Served with rice, noodles or chips
(King prawn or duck £1.50 extra)
£7.20
Lunch Time Special Special
Available 11am-4pm
One long container
Choose one:
• Chicken curry
• Beef curry
• Chicken Szechuan
• Beef Szechuan
• Chicken satay sauce
• Beef satay sauce
• Chicken with green pepper & black bean sauce
• Beef with green pepper & black bean sauce
Served with rice, noodles or chips
(King prawn or duck £1.50 extra)
£8.70
Fried Fish with Green Peppers & Black Bean Sauce
£7.70
Fried Fish in Satay Sauce
£8.00
Fried Fish Szechuan Style
Hot & spicy
£7.70
Fried Fish with Black Pepper Sauce
£7.70
Fried Fish with Ginger & Spring Onion
£7.70
Roast Pork with Black Pepper Sauce
£6.30
Roast Pork with Green Peppers & Black Bean Sauce
£6.30
Roast Pork Szechuan Style
Hot & spicy
£6.30
Roast Pork with Thai Sauce
£6.30
Roast Pork with Cashew Nuts
£6.30
Roast Pork in Satay Sauce
£6.80
Roast Duck with Green Peppers & Black Bean Sauce
£8.10
Roast Duck Szechuan Style
Hot & spicy
£8.10
Roast Duck with Plum Sauce
£8.30
Roast Duck in Oyster Sauce
£8.10
Roast Duck with Ginger & Spring Onion
£8.10
Quarter Peking Aromatic Duck
£11.90
Half Peking Aromatic Duck
£20.90
Whole Peking Aromatic Duck
£35.90
Chicken with Green Peppers & Black Bean Sauce
£6.30
Sweet & Sour Chicken Hong Kong Style
£6.30
Chicken in Batter
With sweet & sour sauce
£6.70
Shredded Chicken with Thai Sauce
£6.80
Shredded Chicken with Peking Sauce
£6.80
Shredded Chicken with Satay Sauce
£6.80
Chicken with Ginger & Spring Onion
£6.30
Chicken with Peking Sauce
£6.30
Beef with Green Peppers & Black Bean Sauce
£6.30
Beef with Ginger & Spring Onion
£6.30
Shredded Beef with Thai Sauce
£6.80
Shredded Beef with Peking Sauce
£6.80
Shredded Beef with Satay Sauce
£6.80
King Prawn with Green Peppers & Black Bean Sauce
£7.90
King Prawn Szechuan Style
Hot & spicy
£7.90
Fried Sweet & Sour King Prawn Hong Kong Style
£7.90
King Prawn with Ginger & Spring Onion
£7.90
King Prawn in Satay Sauce
£8.20
Fried Sweet & Sour King Prawn Balls
£7.90
Box Meal 1
• Chicken balls
• Fried rice
• Chips
• Curry sauce
£7.00
Box Meal 2
• BBQ ribs
• Fried rice
• Chips
• Curry sauce
£7.00
Box Meal 3
• Crispy chicken
• Fried rice
• Chips
• Curry sauce
£7.00
Box Meal 4
• Crispy roll
• Fried rice
• Chips
• Curry sauce
£7.00
Fried Rice with Any Sauce
£5.00
Mix Vegetable in Sweet & Sour Sauce
£6.00
Mix Vegetable in Szechuan Sauce
£6.00
Mix Vegetable in Satay Sauce
£6.30
Mix Vegetable in Oyster Sauce
£6.30
Mix Vegetable in Black Bean Sauce
£6.00
Mix Vegetable with Bean Curd
£7.70
Green Bean with Olive Leaves
£9.00
Salt & Pepper Chicken Wings
£6.10
Chicken Balls
With sweet & sour sauce
£6.30
Salt & Pepper Chicken Balls
£6.50
Chicken Satay on Skewers
With satay sauce
£6.50
Salt & Pepper Popcorn Chicken Small
£5.70
Salt & Pepper Popcorn Chicken Large
£6.70
King Prawn Ball
With sweet & sour sauce
£6.70
Mussels in Black Bean Sauce
£6.50
Pick "N" Mix 1
With sweet & sour sauce
BBQ chicken wings, BBQ ribs, chicken balls
£7.50
Pick "N" Mix 2
With sweet & sour sauce
Vegetable spring rolls, sesame prawn toast, chicken balls
£7.50
Pick "N" Mix 3
With sweet & sour sauce
Chicken balls, BBQ ribs, sesame prawn toast, vegetable spring rolls, BBQ wings
£15.50
Pick "N" Mix 4
Salt & pepper chicken balls, salt & pepper ribs, salt & pepper spring rolls, salt & pepper chicken wings
£15.50
Contact Us
Find Us
98 Byres Road, Glasgow, G128TB
We deliver to
G11, G12, G13, G14, G20, G3, G4